Willow day, again! I'm thinking it could be fun to tally up how many times Willow is seen with a book of some sort vs. at the computer.. then we could manipulate the results into a drinking game! It would be called Wasted Willow! Inappropriate. Let's stick to fashion.
Look at her in that bright red t-shirt that, gasp, fits. Yes, the pants are sort of dorky white & red plaid, but.. just.. look at her!
Hi, I'm Willow and I'm sooo cute. Pinch my cheeks or I'll hex you. DO IT! Also, check out my friend Buffy's cougar claws & cute outfit. OH WAIT, you can't see it 'cause she's wearing some vampire's stupid jacket.
Agreed, Willow, a-greed. And might I draw your attention to Xander & Buffy's awesome rings. (We'll get to accessories later in the week).
Willow's second outfit is also all cutesy wootsy and I would like to have it in my closet. I hope you can see it well enough; demonic lighting is not the most conducive of fashion photography, doncha know. She's back in stripes, navy/white and blue this time, unexpectedly paired with a floral print rayon skirt. I feel like rayon was a buzz fabric of the 90s.. am I right? Did anyone else wear those flowy rayon pants with floral prints just like her skirt? Yaa I definitely picked up a few pairs from Zellers back in the day.. I also really enjoy Willow's choice to wear little sneakers with this outfit. You can always count on the witch to be school, and age, appropriate. Duh.
Buffy gets another gift from Angel, albeit this one is played out as unintentional, unlike her silver cross necklace. It's the oldest story going: girl walks up to vampire in a bar, vamp worries about shivering girl and gives his leather jacket, vamp disappears into shadows, girl continues to wear jacket. Everyday. Everywhere. Thereby, ruining all subsequent outfits. I mean, is this jacket supposed to be symbolic of them? Or maybe of his protection of her? Or maybe it means he's always with her? Whatever. I would much prefer seeing her in Spike's leather trench. The jacket does seem to up the Buff's badassery, though. She pops the collar as soon as Angel puts it on her. Atta girl! And it is while wearing the leather that she stakes a vamp with a white picket fence. Amazing!
The first outfit she botches by way of leather jacket is lovely, feminine, and age appropriate (ok, maybe a bit too short for school). The yellow shift dress with yellow/orange plaid detail is full of California sunshine, but is eclipsed by way of animal hide. I like it with the boots and her ever present brown leather messenger bag. (Please note Buffy using another fun pen with topper).
The second outfit is equally as sunny and even more 90s high schooler appropriate. Belly baring crop top, check. Yellow low-rise pants, check. Clunky black heels, check. Accordion hair band, check. The Buff looks awesome. Why oh why oh why does the leather have to go on? The jacket makes her look so much wider and hides her cute belly. We are basically witnessing her sunny disposition being enshrouded by the gloomy snoozefest that is Angel.
She does make a feeble attempt to give the jacket back at the end of the episode. Angel doesn't take it back, claiming it looks better on her anyway, which is true since the jacket finally suits her and her cougar hair & makeup in this scene at the Bronze. I'm sure we'll be seeing more of this outfit spoiler.
Photoset with 2 notes
Well looky looky who's starting us off this week.. Xander. You have to love a little bit of awkward in a man, and combining that with some of the best lines from the show results in the Xand man. This is an important episode for him, as this is where we get the first of his notorious demon love interests (his soon to be fallback explanation for bad taste & relationship woes), Miss French.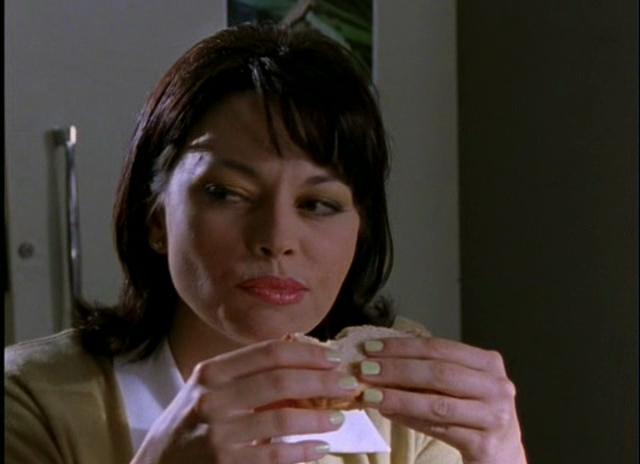 As a sidenote, Miss French has great nails and is utterly creepy. She is the subject of my fave bit of dialogue from this episode: Buffy comments that "her fashion sense screams predator" and Willow quips that "it's the shoulder pads." And I die.
As soon as I put on "Teacher's Pet" I knew I was in for a Xanderrific good time. The opening dream sequence is aweeeesome with Buffy, temporary damsel in distress, in a vampiric blood red satin top. Xander fills the role of her white, err, all dressed in black rock'n'roll knight. He stakes a vamp and then heads to the Bronze stage to sing and wail on his guitar. The ol' stake & serenade trick, gets 'em every time. Buffy approaches him on stage and tells him he's drooling and I'm sure that before he wakes up he's thinking "Girl, please! You're drooling at me in my tight black pants and the only non-garish shirt I own." I count my lucky stars they didn't stick him in this other look featured on some random band member on the Bronze stage: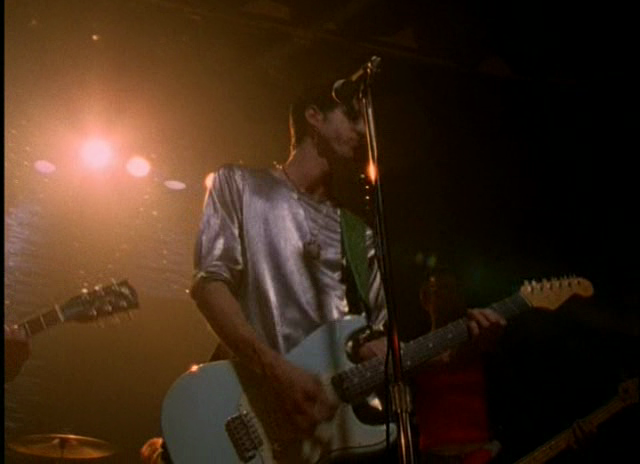 Although I'm sure Xander would be interested in purchasing that necklace and the shiny silver shirt isn't much worse than the shiny velour one he wears to school: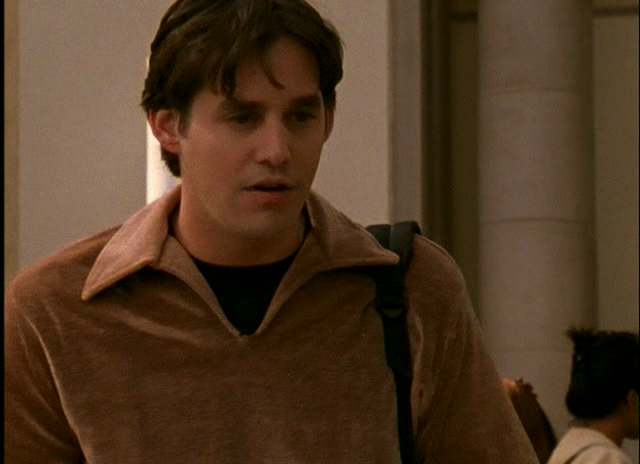 So yes, PSYCH, it was all a dream. Xander wakes up in class, wipes away his real life drool, and we get a glimpse of the first of his many rings this episode. For real he gets blinged up like no other.
In an even harsher back-to-reality moment, Willow's ketchup & mustard outfit combination screams out at us louder even than the look of disapproval on her face. She looks like a traffic cone on the highway to hell, which, perhaps, is totally necessary at the hellmouth.
Photoset with 11 notes
Alright, so today's BIY has pretty much nothing to do with fashion, but it is a fashionable (hmm, might be pushing the boundaries of that word) accessory! Inspired by Buffy in a cheerleading outfit, Trolls, and the overall cuteness of everyone this week, I made an adorable pencil topper. If you've got the right ingredients this one will be nice and simple. If you don't, then just hit up your closest dollar store before you Buff It Yo-self!
I used a Calico Critter because they're all hip with the kids these days and because they're so cute (hellOO hedgehog family!) I collapse in giggles everytime I look at them. Which, really, can make writing anything a rather long process. Dollar store toys would also be perfect, but if you still have a Troll kicking around then for God's sake use it! The yarn I used is this awesome light pink "paper" from a now defunct sub-brand of Rowan called R2. Soo although you won't find it around there are lots of fun yarns out there and basically anything you like will do the trick.
Let's get to it!
1. Make two cheer pom poms (technically called pompoNs, but what a stupid looking word) with your favourite yarn. Follow the instructions here, but instead of using a cardboard ring just wrap it around the widest part of your thumb.. they need to be tiny.
2. Glue the pompoms to either side of your soon-to-be cheerleader toy. I used my trusty glue gun, but super glue would work, too. Topper=complete!
3. Glue the topper to your pencil/pen.
At this point might I suggest using your new Buffy-inspired writing utensil to pen some fan fiction..? Please. And then let me read it.
Oh! And I should mention that if anyone attempts this, or any of the BIYs, I would absolutely love to see or hear about your results. Let me know how it goes through the comments or send an email to whatbuffywore [at] gmail [dot] com!
Photoset with 1 note
Buffy's non-cheerleading and non-pyjama choices this episode are all pretty great, although they're kind of all over the map for age appropriateness.
Buffy of Sunnydale High: Pink pants, white tank with cupcakes, all kinds of bubble rings, light blue cardigan that goes from tied around the waist to on to tied around the waist. Do you love the hard stare Buff gives Cordelia as she walks past her in the hall? If that's not high school I don't know what is! AND the absolute best part can be seen in this closeup:
TROLL PEN! I used to have such a stupid amount of trolls in all of their manifestations. And I remember the one girl at school who always managed to have more than me.. grrrrr.. Anyhoo. Tralala!
AND, direct from my Clueless-obsessed brain, as far as floofy pen tops go this one might be my favourite:
In fact, beyond being an awesome parallel this picture has just reminded me about 2 things: a) I should send myself some chocolates tomorrow and b) where the frig is my Cranberries CD?
Buffy the I'm Not a Girl, Yet Not a Woman: I really like the pale, pale blue/grey wrap dress (that may or may not have some skort action happening underneath » little known fact, skorts kill vampires) and the cutesy tights that are like the ones you'd find at American Apparel. The tights ensure the dress stays young & playful, while the dress prevents the tights from being too 4yr old birthday party. The boots basically make no sense and are completely disjointed from the rest of the light look.
Buffy as Rachel Green (mid-late 20s): Alright, with the hair just a little bit shorter and the nips just a little bit harder tell me the Buff isn't channeling the Rach?! Tie-dyed, but fitted, this dress is boho-tiful! The length is perfect and the boots take it from beachy to breezy chic. The leather shoulder bag is soso nice. Maybe it's just because she's next to Amy's baggy 'peace' shirt and unzipped hoody, but this outfit doesn't quite fit Buffy's age. I could pick on this one, but I love it too much so I'll save that for the last stage in Buff's crazy wardrobe growth this episode.
Buffy as YOUR MOM (30s-40s): She looks pretty strained in this picture, must be from that damn french twist. Snore. I don't care for a printed polyester top on a good day, but this is just so meh on Buffy. Look at how cute Amy looks! And young! (PS. There is a shirt at Joe Fresh right now just like Amy's, although strawberries instead of roses, and it is super de duper cute. Just fyi! Also cherry print scarves & strawberry print shift dresses reminiscent of last week's stellar Buff outfit). You can't see it here, but the shirt is also that awkward no man's length of not a shirt, not yet a dress. She's wearing it over white pants so maybe I was wrong in saying she looks like your mom.. what I really meant was she looks like YOUR GRANDMOM playing gin rummy, poolside in Florida.
Soo tomorrow is BIY time again and I'm finally going to hit up Buffy for some inspiration. Two hints: It's cute & it cheers! Hip, hip, hooray!
Photoset with 1 note
Super short pyjama post today because I've got a loong one coming for you tomorrow. I think it must definitely be obsessive to envy sleepwear. But I do.
I adore Buffy's hair in a cute top knot and her sweet heart tank. Is that throw pillow in the background our first glimpse of a Buffy & leopard combo? I do believe it is! Oh, good things to come..
I have a personal love of strange cat shirts that I can't fully explain, so I'm a natural fan of her 'bad kitty' t-shirt. Wish I could have captured this better, but alas how very feline of the outfit not to cooperate.
Photoset with 3 notes
Wednesday is Willow's day. Yes yes yes! All Willow, allll day! This is a great episode for her, maybe the marked progress of her wardrobe is foreshadowing of her personal witchy developments to come, in light of the episode's title. Thoughts?
The first outfit of light purple velveteen pants and even lighter purple floral print long sleeve is adorable in all the right ways. I have long thought that red heads look unbelievable when working a complementary shade of aubergine and Willow is really making my point for me here. With the right shoes and doing something slightly more interesting with the hair (although, again, I love her hair simple, sweet, and long) this would be completely wearable.
The second look makes me swoon. Love the little metallic bow bobby pin. The skirt is a perfect saucy length and the sort of plaid/tartan print reminds me, again, of one worn by Cher in Clueless. The black tights and small backpack keep the potentially saucy length appropriately 'Willow'.
But it's the shirt and vest (?) combo that make this look desirable. While the  striped top would be more flattering with a more precise fit the colour palette is sort of delicious. The print of the vest reminds me a lot of the gorgeous Navajo-type prints (maybe because of the colours??) that have been making their mark on current fashion.
The third outfit falls short of the previous two, but keeps the stripes going strong. Chartreuse, sky blue, and navy aren't a bad combination, really, and Willow looks simple and lovely.
Unfortunately, she lapses back into craptastic fashion with her last look: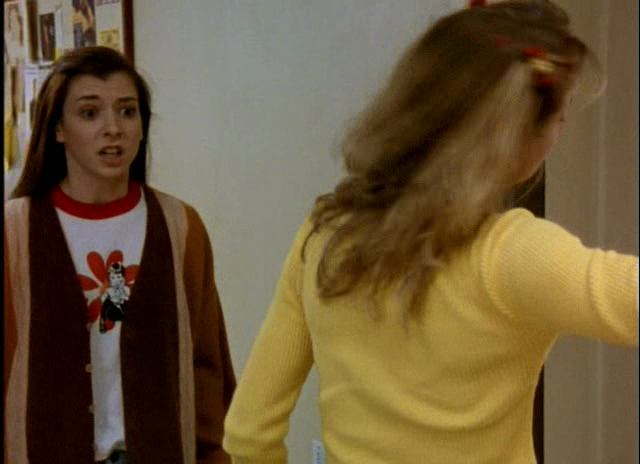 Yup, that's exactly the look you'd expect to see from someone who just caught a glimpse of themselves wearing that in a mirror. Dumpy sweater over dumpy cardigan over dumb(py) shirt. There are dumpy jeans to go with. I mean, I realize this is a perfectly normal thing for a perfectly normal teenage boy girl to wear, but c'monnn it's Willow. Girl ain't normal.
Speaking of Clueless, which I tend to do a ridiculous amount of the time, I think we should consider the parallels between:
a) perhaps the best collective exhibit of fitness wear that film & tv have ever offered us viewers: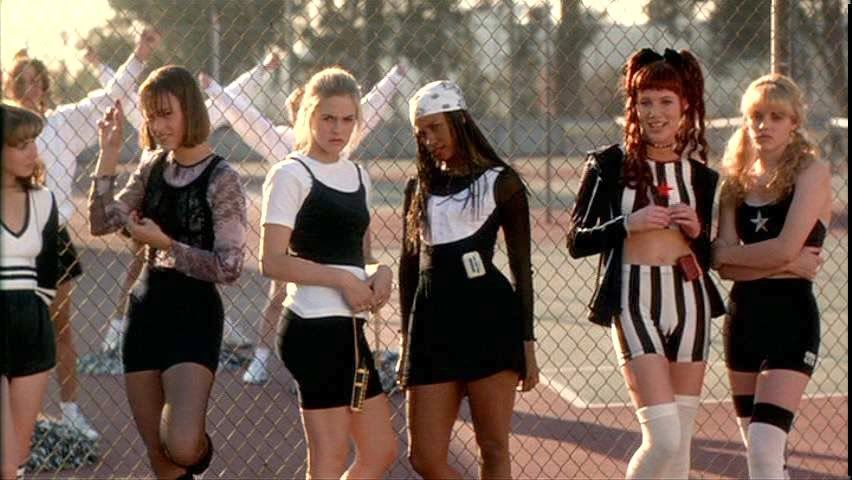 and, b) Cordelia's formidable competition in the athletic wear division: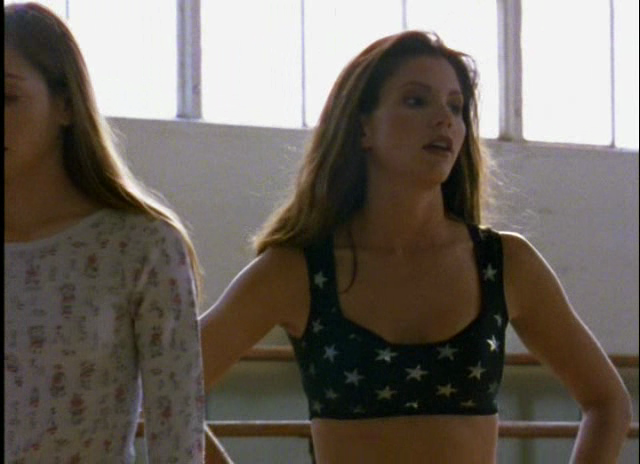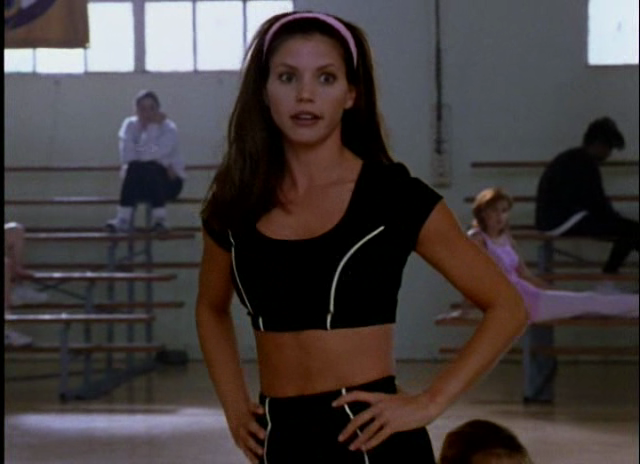 Gah! The previous photographic evidence is insurmountable proof that old t's and ratty Umbros (anyone?) will get you nowhere in gym class. The matching bra top & spandex short is clearly the winning way to go. Honestly though, Charisma Carpenter has an uncanny ability to make the sweatiest of gear look impossibly.. dare I say, sophisticated..?
The only time Cordy is caught in anything more contempo casual is when she goes all blind zombie and dramatically crashes the driving school car. People, please, is it just me or does this episode, like, totally reek of designer imposter perfume? Cher Horowitz also had several vehicular mishaps, most notably when she almost nails a cyclist and is denied her license by the self-purported "Messiah of the DMV".
Hmm, I think I might have to turn off the tv. Or at least turn down the quotable crazy.
Photo reblogged from AliceinSunnydale with 71 notes
Word!
Buffy the Vampire Slayer | 1.07 Angel

Angel's looking at her like "you crazy bitch"
"I have a dream. It's me on the cheerleading squad, adored by every varsity male as far as the eye can see." -Cordelia. Episode 3 from Season 1 is called 'The Witch', but it could pass as Bring It On, what with all the witchy cheerleading. 
Actually, this episode has a few fun parallels with another one of my favourite 90s fixtures: Clueless! So, ya I'll be mentioning that a whole bunch this week.
We first see Buffy on her way to cheer tryouts, getting an earful from Giles, wearing a cheer-inspired outfit and carrying a set of poms. Perfectly classic and made even more so because of the up-the-skirt shot of her panties when attending to the show's first victim (the shot has bleachers in the background, the original panty peeking location).
Buffy has more wardrobe changes than a Lady Gaga concert during this episode (all of which we will take a look at later on), but she spends most of her time dancing and trying not to die in this one: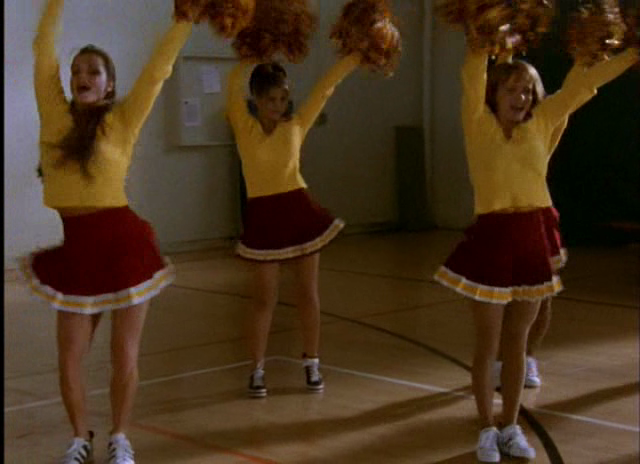 I love this scene. She's so loopy and just having a grand ol' time shaking her bon bon pom poms. Go, Buff, go!