Post with 2 notes
Clearly I am unable to keep the posting and the screencapping and the whatnot happening on the regular. I don't really know what I was thinking, as I've got a lot of other things occupying my time at present. So, I've decided that instead of keeping up appearances I'm just going to call it quits indefinitely.
I love Buffy & friends, the Whedonverse, and most of all the (mostly) wonderful costumes that filled 7 glorious seasons of Buffy the Vampire Slayer. SO, I'll be back when I'm certain I have enough time to commit to this little endeavour.
Adieu for now!
Photoset with 5 notes
Ok I'm back.. again. And so, apparently, are Buffy/Angel's leather jacket and silver cross. At once. Together. Leather & silver, kind of badass, but kind of notsomuch. Again, I simply don't see the point in wearing an uptothere short, halter minidress if you're going to cover it up with a downtothere, borderline frumpy leather jacket. And whose mother looks at these visual warning signs and still lets them head out to the Bronze to drink vaguely alcoholic-looking drinks and, uh, and a.. croissant? (Buff is giving that doughy delight a look that says she doesn't really understand her choice, either). Joyce. Joyce is that kind of mother. She is also the kind of mother who goes on crappy dates and tells her daughter about them, leading Buffy to make the following comment about Angel's courting style: "His idea of wooing doesn't involve a Yanni CD & a bottle of Chianti". Yikes. Also, I'm starting to think that whoever was in charge of SMG's nails this season had one hell of a job.
Buffy's next outfit makes me cringe. The hair and makeup is too old, too dark. The t-shirt is too tight and cheap looking and the pants are meh, shiny jeany things. Yes, this look just gives me the willies for some reason, but that could just be a result of the general feeling I get with this entire episode (Xander's attempted rape? assault? is horrifying, I really think it's one of the darkest moments of the show's entire run). I do believe that pig is better styled. Unfortunately, little piggy's well-dressed time in Sunnydale is drawing to a quick and gruesome end.
I much prefer this outfit once she adds the purple button down for hunting down the hyena pack. Holy jesus, the scene with the hyenas attacking the family in the car scares the junk out of me every time I see it, but then Buff jumps on top of the car and saves the day and it's the best thing you've ever seen.
Photoset with 1 note
Man am I a jerk.. totally spaced on Willow Wednesday. Sweet tulips, I think Willow is incredibly fetching, albeit pumpkin-y, in her orange sweater and green patterned skirt. The dark tights lend an appropriately fall feel to the look. Her accessories are light and youthful: cute earrings & a very handmade-looking beaded choker (Willow is the choker queen). What I actually can not get over is how beautiful she looks with her hair pulled back off her face. Willow! Hot damn! I think it's just that she looks more like a teenager than a kid. Or something. I am in love with the change between smitten kitten Willow gazing adoringly at Xander & love bites (get it!?) Willow reacting to Xander's cruel words. Is there any question that Alyson Hannigan has the most emotive face on TV? Also, once again I am remarking at the comparison between the Buffy Scoobies and the Scooby Doo movie. Willow's sweater is a modern day Velma, no? And all that blue on Xander makes him look a little Fred-ish..
Photoset with 1 note
Let's talk about the Sunnydale gym class uniform. Burgundy and yellow, an unfortunate combination, but quite common nonetheless. "God, this game is brutal. I love it," the gym teacher comments about dodgeball, but I think it's also applicable to the recreationally inspired fashion going on in this scene. All the students are wearing different variations of a uniform of sorts, with Buffy's velour track pants & spaghetti strap tank being at one end of the sexy spectrum and Willow's long sleeved, 70s (boy's) track suit being at the other end.
Dodgeball is the quintessential 'prey on the weak' game that has always and will always allow sadistic gym teachers the pleasure of allowing students to attack each other according to the rules of the high school jungle. This, of course, gets the hyena teens all jazzed up and they go for all the weaklings dressed like Willow.
I threw in a picture of Buffy in the low cut top she wore while training with Giles because I think her pouty face is awesome. That is all!
Photoset with 2 notes
Back from sunny Sunnydale Santa Barbara in time to dig into a dark episode: 'The Pack.' Fashion-wise, this episode is leaner than most with way fewer costume changes, but it more than makes up for it with all kinds of sticky subject matter. Some spoilers: attempted rape, cannibalism. Yikes.
Perhaps it is the episode's dark events that required the characters to make their first appearances in bright, cheery clothing all around. Willow & Xander are reminding us of their ongoing mutual love of the stripe. I like Xander's sweater in a throwback sort of way, like, reminds me of reading the School Zone section of Seventeen Magazine and seeing the cool, older girl's wearing their even cooler boyfriend's sweaters. The sweaters always looked like this one. Willow looks like an Easter egg, which I suppose is well timed considering the season.
Buffy is wearing an orange, crushed velvet, belted trench that I honestly feel would be pretty fun to wear. We don't really get to see what she's wearing underneath since whatever it is is shorter than the coat.. classic Buffy, especially paired with knee high boots. Her shirt & shoulder bag appear to be from the same, or similar, material which is some sort of greenish camouflage/leopard blend? The scarf, also in a shade of putrid green, and a french twist give this outfit a tacky 70s stewardess look. Actually, I think they all end up looking a little cartoonish, which begs the comparison with their Scoobie predecessors. Buffy's outfit is indesputably Daphne-inspired, but then was Sarah Michelle Gellar's Daphne inspired by Buffy? Oooh the plot thickens!
Photo with 2 notes
Back to regular programming on Monday, I promise.
In the meantime here is a shot of the Buff working her stuff during some library (!?) training with Giles. She is. THE BOMB!
Post with 8 notes
Howdy! No recaps this week as I am on a roadtrip vacation to sunny California. I'm so excited to be spending a couple days in Santa Barbara because this is closest to a real world Sunnydale yaayyyy!
Photoset with 1 note
This week's BIY is an homage to the peeks of leopard print we've seen in recent episodes, as well as a nod to Willow's accessorizing choices. Leopard is definitely a go-to print throughout all 7 seasons of Buffy so I'm sure we'll be using it again soon, but this is just a quick taster. (Ingredients 2-4 provide an option for those who would prefer tie-dye to animal print. You can follow these instructions).
1. Cut a piece of elastic that fits loosely around your wrist. I used 9" of elastic.
2. Cut a strip of your fun fur that is 3" wide x approx. 15" long. The longer your fabric, the more 'scrunch' you will get.
3. Fold your fabric strip in half lengthwise, pin, and sew along the edge. Now you have an inside-out tube so do whatever you have to do to get it right side out!
4. Work your elastic through the tube and sew the ends of it together.
5. Finally, sew the ends of the fun fur tube together.
Stick this baby in your hair and head out on the prowl. Or wear it on your wrist, it's not a far cry from a fancy fur cuff!
Photoset with 2 notes
Now this is a Buffy outfit that is deserving of it's very own post. Cropped, shiny blue, tie-dyed tank top. Word. High-rise dark pants with sailor style buttons (can you see them in these pictures?). Fabulous! Notice the teeniest sliver of skin between top & bottoms? Perfect. Now if only she would loosen up that hair.
The sequence of the above photos is just priceless. Complainy Buffy turns into Sadface Buffy turns into Happyface Buffy. Happyface Buffy is a result of, you guessed it, Owen. He asks her out and, inexplicably, gives her his father's watch.. as you do with somebody you've never even gone on a date with.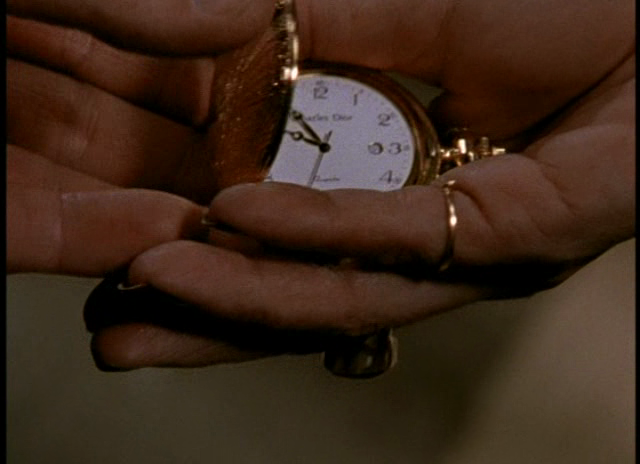 In what may be my favourite purely comedic moment this episode, Dejectedface Xander compares his own watch:
Well, time's up! I've got a much more accessible BIY coming up tomorrow so stay tuned..
Photo with 8 notes
I'm sorry but does this look like a still from a porn to anyone else?
It's got: naughty library setting, older man/female student scenario, hand touching (ow ow!) which is really gift giving, knee-high boots, supershort dress (that's perfectly tacky looking), french twist (the absolute best for shaking out in the vixen fashion), and giant wood surface for doin' it.
Glad you agree.